Poems For Children
Poems by Stanisław Grochowiak
Honourable mention for illustrations and design from the Polish Section of IBBY/Polska Sekcja IBBY The Book of the Year 2017.
A collection of poems for children by a prominent Polish poet Stanisław Grochowiak. Published in March 2017 by Wydawnictwo Warstwy.
The book is a compilation of poems first published in 70's in two tomes: "To było Gdzieś" (1973) and "Biały Bażant" (1978). The two sections are distinct by different leading colours. The tome contains 43 poems and 27 illustrations.
Illustrated by Gosia Herba.
Design and DTP by Mikołaj Pasiński.
Cover design by Gosia Herba and Mikołaj Pasiński.
---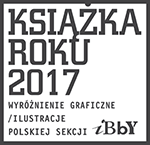 Honourable mention (design and illustration) in the Book of the year 2017 contest organized by the Polish section of IBBY.